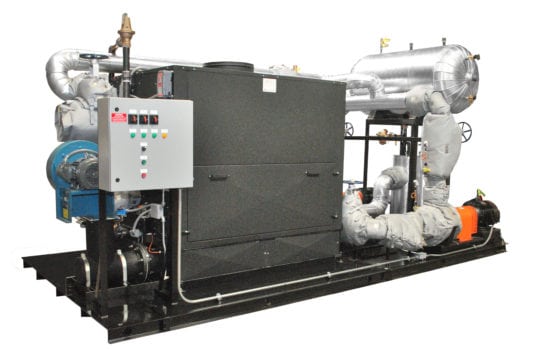 Never A Compromise
For Quality or Safety
---
T he Parker Direct Fired Type Heat-er represents an ideal heater for thermal liquids. Our all welded, bent steel tube design allows for the continuous expansion and con-traction to which the heater must be subjected without damage. The double welded construction eliminates the problems of rolled or poor joining of tubes, experienced in competitive units.
Heaters up to 6,250,000 BTU
The Parker bent steel liquid tube design offers an extremely efficient, reliable thermal fluid heater built for the long term and ease of maintenance. Low NOx burners are available. The Parker design offers many advantages. Compare ours to the competition.
Thermal Liquid Applications
Process heating applications which require temperatures between 350° and 650° F can frequently be serviced more dependably, efficiently, uniformly and safely with a Thermal Liquid System as opposed to a steam, water, electric or direct fired system.Over the past 50 years, thermal liquid systems have been used in a wide variety of applications. The following are some common uses:
Chemical Plants

Plastic Molding

Cooking Fish Sticks To Potatoes

Asphalt Heating
Laundries
Dry Houses
Wood Veneer Manufacturing
Particle Board Pressing
Soil Remediation

Food Remediation

Oil Heating

Adhesive Heating
System
A Thermal Liquid System consists of the heater, circulating pump and expansion tank, and possibly a distribution tank, with properly sized piping to the heat utilizers, such as jacketed kettles, presses, reactors, ovens, exchangers, etc. System distribution tanks for primary secondary pumping systems are common when flow thru the heater cannot be guaranteed with one pump system. Correctly engineered, a Thermal Liquid System is extremely trouble free. Operating pressures are very low permitting the use of standard pipe and fittings. The entire system can be open to atmosphere through the expansion tank. Thermal liquids specifically compounded for high temperature service are readily available.
Typical Piping Schematic

Advantages (Low NOx Models Included)
Safety

Large Heating Surface

Flexible Tube Design
Low NOx
Controlled Flow

Durable Cabinet
Heavy Steel Frame

Heavy Duty Tubes

Heavy Insulated Cabinet
Thermal Liquid Water Wall Power Burner Heater
Gas, Power Gas, Oil or Combination Gas/Oil Fired
126,000 to 6,250,000 BTU
Thermal Liquid Heating Systems
System Components
Heater
The Parker Direct Fired Type Heater represents an ideal heater for thermal liquids. Our all welded, bent steel tube design allows for the continuous expansion and contraction to which the heater must be subjected without damage.
Fluids
The fluid to be used must be selected from a wide variety of specifications. Fire resistance, cold flow and freeze points, high operating temperatures, viscosity at varying temperatures, life expectancy, vapor pressure characteristics, and of course, fluid cost are among the deciding factors in fluid selection.
Pumps
In closed recirculating Hot Water Systems, pump selection in GPM is based on the desired temperature rise through the heater and the system head pressure. Pump selection in a thermal liquid system is based on velocity flow across the tube surface and the total system head. Some fluids reduce viscosity by 100 times from 50 centistokes at 100°F to .5 centistokes at 600°F. Velocity flow should not be less than 8 feet per second, which with 1″ pipe as boiler tubing represents approximately 20 GPM per tube.
Tanks
Selection of the system expansion tank can generally be based on the simple formula of 4% expansion per 100°F of temperature. This figure will be accurate enough for most applications. The tank should be sized to be 1/4 full at 70°F and 3/4 full at maximum system temperatures.
System Arrangement/Specification
A central system distribution tank for primary secondary pumping systems is common and recommended when flow thru the heater cannot be guaranteed with a one pump system. All system piping over 1″ should be welded. When flanges are required, a high grade Flexatalic high temperature spiral wound gasket must be used. No petroleum type pipe dope should be used. All long circulating lines should be protected with expansion joints to prevent damage due to expansion.
Thermal Liquid Water Wall Low Nox Heater
Bent Steel Liquid Tube Furnace
126,000 to 6,250,000 BTU Gas Fired
Parker Boiler Premix Burner System
The Parker System consists of a Heavy Duty Cylindrical Metal Fiber Burner (MFB). Through a gas/air premix manifold, the burner may be linked to a fully modulating blower mixer which offers precise control of combustion through the full range of modulation. Parker uses a variety of premix gas/air mixing & delivery systems for it's "L" System boilers. Parker's Low NOx Systems are typically designed for a 20 or 30 ppm level at 3% O2, however, special 12 ppm Low NOx boilers are also provided. In all cases, a Premixed gas/air is distributed to the burners by a manifold. By precisely controlling the gas/air ratio provided to the burners, Low NOx emission & efficient clean combustion is obtained.
Parker Boiler Premix Burner System 4
Variable Speed Drive Fan Post Mix System
Siemens SKP – Controller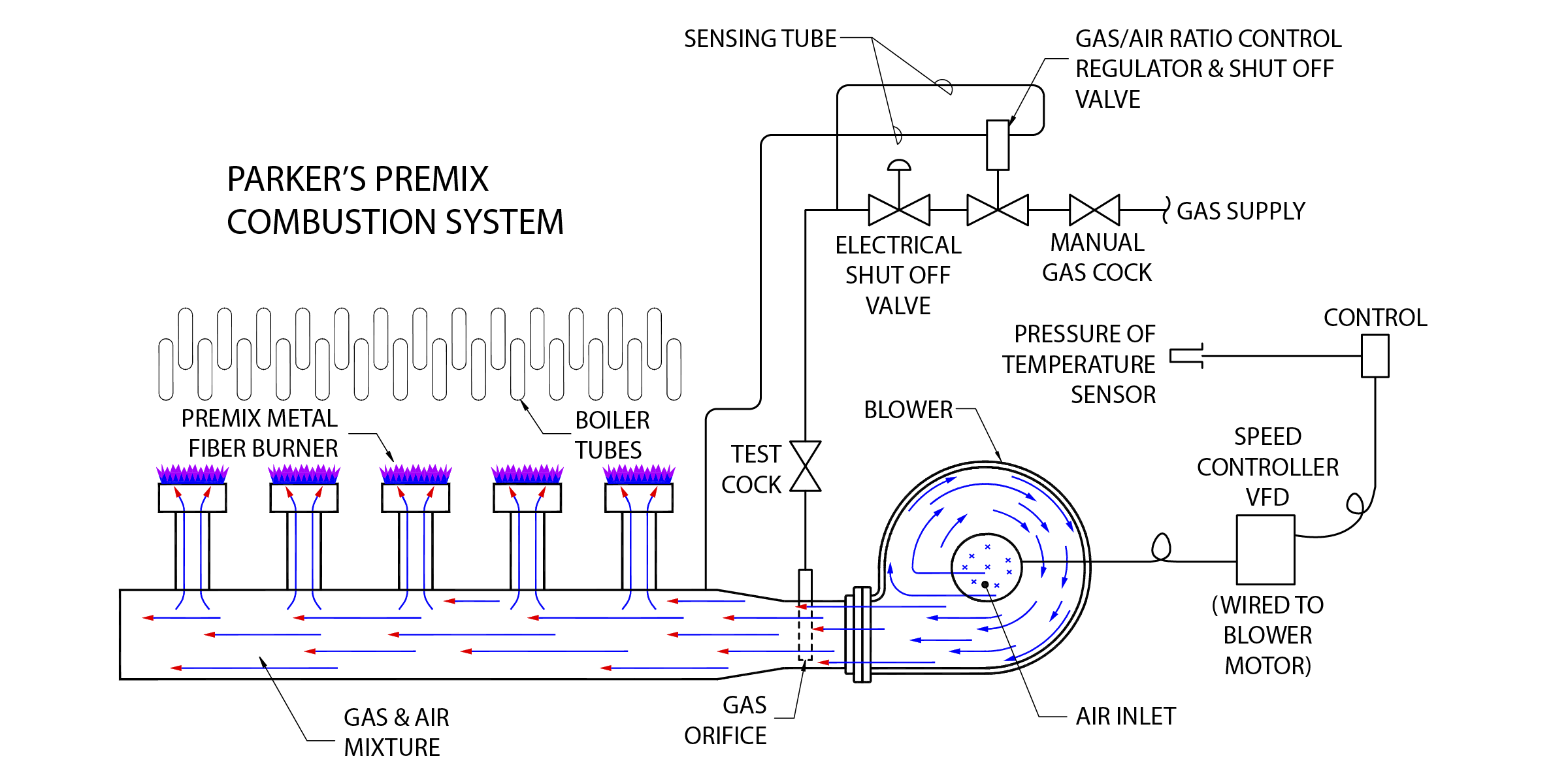 ---
NOTE: All drawing dimensions should be verified prior to installation. Due to continuous improvements and irregularities of purchased structural shapes and rounding, dimensions may vary and are subject to change without notice.
If the model of the boiler you are looking for is not readily available here please contact Parker Boiler for more assistance at (323) 727-9800 from 8:00AM to 5:00PM (PST).
---
Brochures:
Bulletins:
Spec Sheets:
Operation & Maintenance Manuals: