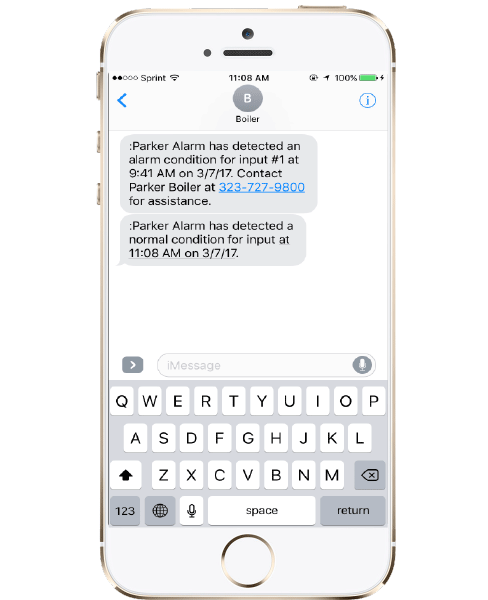 ParkerView Alarm
---
P
arkerView‐Alarm (PV‐A) is a simple to setup, use, and maintain cellular based alarming system for use on boilers or other devices. It allows the owner or operator of the boiler or other device to be off site and be alerted when an alarm condition is detected, cleared or when there is a power loss. This device could allow a boiler service company to know of a boiler problem before the customer is even aware of a down boiler. PV-A is part of Parker Boiler's BMS solutions which include an array of communication products designed to meet customer demands
How does it work?
The alarm has 2 inputs for dry contacts. The contacts can be connected to alarm contacts, relays, switches, etc. (no voltage). When either contact closes, a loud audible alert is sounded first (this can be programmed off), and then a text message is sent.
Text Message
In the event that an alarm condition is detected PV‐A will text up to 3 phone numbers to indicate if there is a problem. If the alarm is cleared an additional text is sent to let an offsite owner or operator to know.
A text is also sent if there is a power failure or low batteries. The unit will continue to run on battery in the event of a power failure.
Programming
The Cellular Alarm is programmed from your cell phone by sending text messages (just as if you were texting any other contact). The Cellular Alarm does not need any other Internet connection. Anywhere there is Verizon service, the alarm should work. There is a test button to make certain the unit is communicating.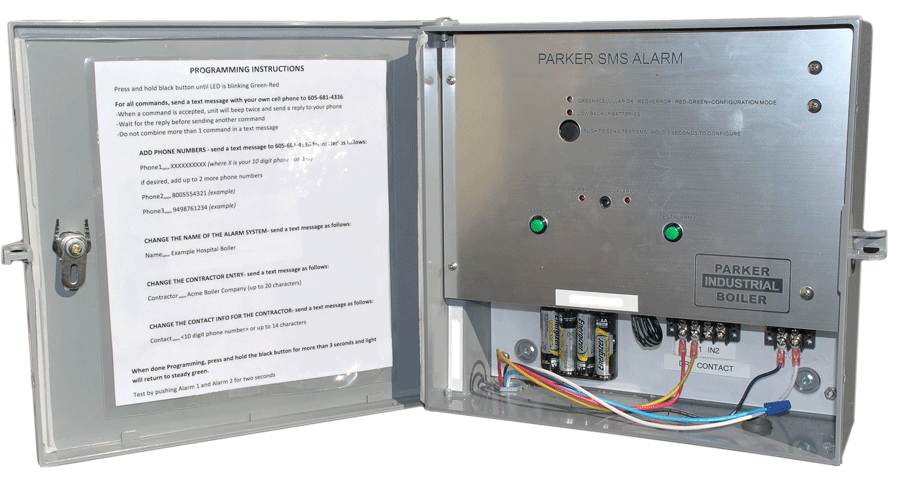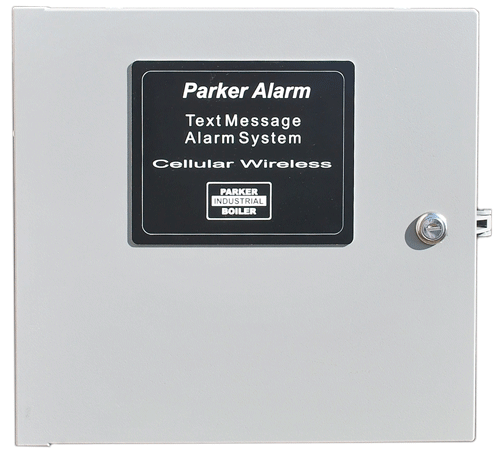 Part No.:                 

PV-A

Enclosure:            

12x12x4″ Plastic weather proofed NEMA1

Weather Rated:  

Indoors or Outdoors

Alarm Points:      

(2) N.O. Dry Contacts required from equipment

Electrical:             

115V/60Hz/1Ph

Battery backup:   

Yes, Requires (4) Non-rechargeable, Alkaline Batteries, AA size

Listed:                     

UL Listed Power supply

Operating Temperature:

32 °F to 150 °F

Operating Humidity:

0-90% RH, Non-Condensing

Cellular Radio:

CDMA Dual Band 1xRTT (CDMA2000) 800/1900 MHz

Certifications:

FCC Parts 15, 22, 24; RoHS Compliant; IC: RSS-132 & 133

Antenna:

Integrated, on board Input Voltage: 12 VDC +/- 10% Input Current: 0.5 A (max)

Network:

Verizon certified cellular modem.

Sensor Inputs:

(2) Dry contacts only

Control Switches:

(1) On/Off Power Switch, (1) Push-To-Test Momentary Button

Options:

(1.) Remote antenna for basement installations




(2.) 24Vac Version

Contract:

1 Year (renewed yearly)

Warranty:

1 Year
When the PV‐Alarm is purchased it is required that a low cost one year cellular plan also be purchased. This plan can be initially purchased through Parker Boiler or a third party. Subsequent years must be purchased from the third party. Once installed it takes under 3 minutes to setup the cellular text list and custom names. It will operate with no maintenance for years.
Sensor Inputs
The Cellular Alarm has two inputs. When the system detects a closed condition for an input (normally open contact), it will sound an alarm, toggle the corresponding sensor status light, and send a text notification. The Cellular Alarm will also send a text notification when the input returns to a normal condition.
Backup Battery Operation
The Cellular Alarm uses 4 AA batteries as a backup power source. The Cellular Alarm monitors these batteries and sends text notification if they are low or critically low.
When the batteries are low, the system has limited battery runtime and should be replaced soon. If the batteries are critically low, the system will not likely operate and the batteries should be replaced immediately. When the batteries are critically low, the Cellular Alarm chirps every 30 seconds.
Power Loss Detection
The Cellular Alarm sends a text notification when electrical power is lost and restored. Power must be lost for 5 seconds before the Cellular Alarm will send the text notifications.
The Cellular Alarm goes to sleep after 5 minutes to conserve the backup batteries while electrical power is lost. When the Cellular Alarm detects that electrical power has been restored, it will wake up.
While the Cellular Alarm is sleeping, it is still monitoring the inputs.  If it detects a closure, it will wake up and send a text notification. It takes about 30 seconds for the Cellular Alarm to wake up.
Brochures
Bulletins
Manual